Ouvrir un compte de WebMoney
C'est facile d'ouvrir un compte avec WebMoney si vous n'avez pas déjà un. Seulement cliquez sur ce lien pour ouvrir un.
Apres que vous avez enregistré et avez déposé dans votre compte de WebMoney, vous pourrez immédiatement déposer à votre compte de EuroMania.com et commencer à jouer tout de suite!
If you need additional help, click here to access the Help Desk page on their website.
Pour le support technique par l'intermédiaire de l'email adressez-vous svp à notre équipe de soutien à support@wmtransfer.com.
You can also contact the WebMoney technical support call center. You can find this on their Contact page on their site.
Lisez ci-dessous pour une liste des nombres internationaux de centre d'attention téléphonique de support technique:
+7 (495) 727-43-33 – Moscow.

+7 (812) 336-43-18 – St. Petersburg.

+1 (212) 202-66-06 – United States.

+44(203) 239-60-39 -UK.
Instructions
Start by going to //www.wmtransfer.com and select your desired language from the top right hand corner. Once you are ready press the "Sign Up Now" button.

Il y a 4 étapes à ouvrir votre compte de WebMoney et le premier est en présentant et en confirmant vos informations personnelles.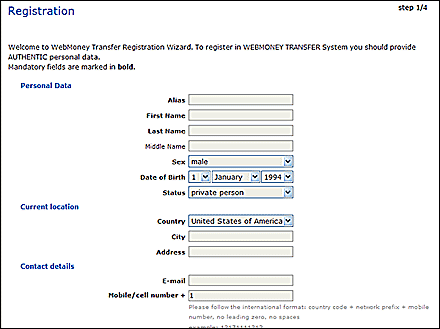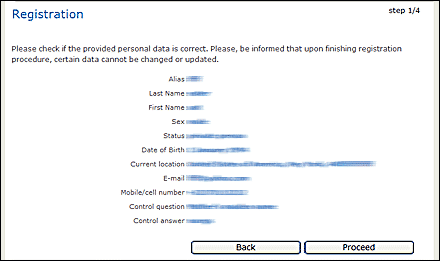 Note svp que toute l'information a besoin d'être précise pour procéder plus loin.
La deuxième étape est en écrivant votre code d'enregistrement envoyé à l'email adresse spécifique dans votre information personnel. Dès que le code sera vérifié, vous serez réorienté à la page de vérification de mobile/cellulaire.

This page contains instructions for sending an SMS from your phone for Mobile/cell verification.
Please wait for confirmation to proceed.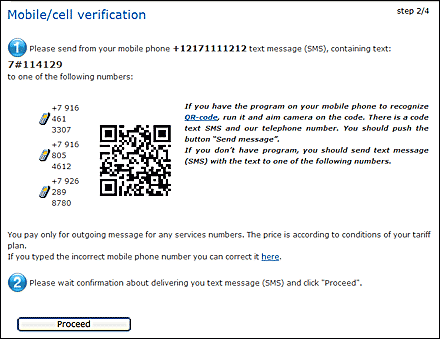 Apres que votre SMS a été reçu nous t'enverrons un message de confirmation.
Ainsi que vous recevez la confirmation, cliquez sur "Proceed" svp pour créer votre compte et compléter le procédé d'enregistrement.
La disponibilité dépend de votre pays